Best Healthcare 2020 Rankings. Thailand has the 35th best Healthcare system in the world according to Legatum Institute. Singapore ranked top with the best healthcare system in the world followed by Japan, Switzerland, South Korea and Norway.

A UK based think tank Legatum Institute, that aims to bring people out of poverty.

The institute is providing prosperity index ranks for the last 13 years based on 12 sub-indexes or pillars with regards to prosperity and development. One of the pillars is health. This year they brought us the list Best Healthcare 2020 in the world.
For Full Heart Checkup Packages Click Here:
Complete Rankings Of Best Healthcare In The World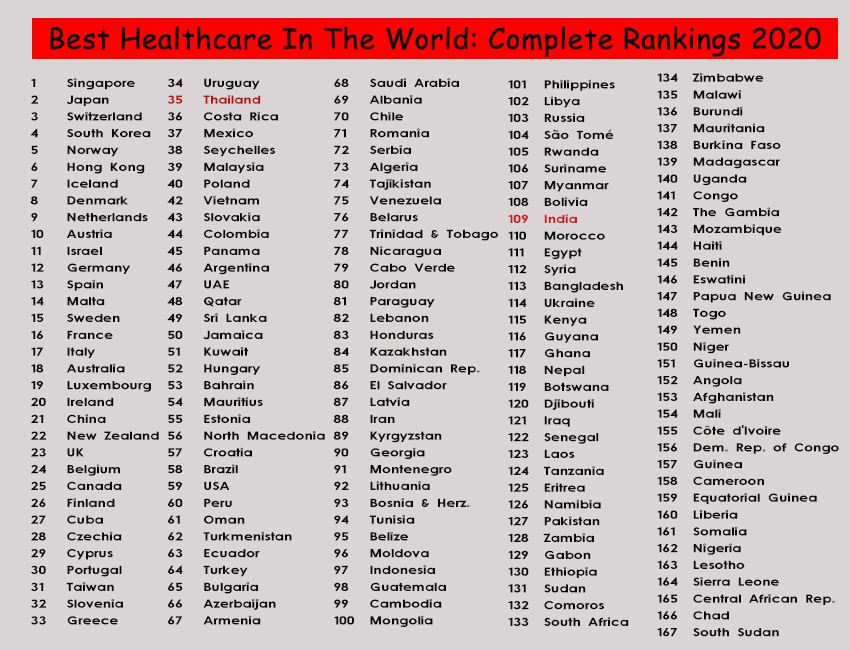 Evaluating Healthcare
To asses the quality of healthcare system in 167 countries of the world The Prosperity Index has collected data from World Health Organisation, UNICEF, HIV/AIDS programme of UN, the International Labour Organisation.

They took into consideration about people can access the healthcare services provided their government to maintain good health including treatment, availability of medicines, care systems, provisions for mental health illness, preventive measures, response on global pandemic, risk factors and mortality rates.
Best Healthcare 2020 In The World
10 countries are providing the best healthcare in the world for their population. They are

1. Singapore
2. Japan
3. Switzerland
4. South Korea
5. Norway
6. Hong Kong
7. Iceland
8. Denmark
9. Netherlands
10. Austria
Types Of Healthcare
In the world countries have their different approaches regarding providing healthcare to their population. Most of the developed countries in the world provide universal healthcare funded by government also known as single-payer healthcare.
Universal healthcare system gives access to healthcare for all its citizens regardless their income or employment status. Australia, Canada, Norway, Singapore and the UK they are following this system.

There is another widely used option is to have a universal public insurance system where government withholds part of the workers' wages and put it to their healthcare insurance. China, France, Japan and South Korea are following this system.
Some other nations like Netherlands and Switzerland use an university private health insurance system where low-income people who cannot afford private insurance they are subsidised by the government.
The final group consists of Democratic Republic of Congo, Ethiopia and the USA who uses non-universal insurance system for their people. In this case some of the population have private insurance and some receives subsidised public healthcare insurance while some are not insured at all.
Source: ATLAS & BOOTS