Best Neurology Treatment In Thailand
The best neurology center Thailand is committed to give the patient with disorders a high quality treatment equipped with most modern medical technology. The team consists of highly experienced professional and board-certified neurologists. Dr. Niyom Pisitpipattana, M.D. has experience of more than 25 years with neurological pain management and stroke. The best neurology treatment in Thailand with the best neurosurgeons are on hand 24 hours a day to diagnose, effectively manage and treat neurological illnesses.
For Full Health Checkup Packages Click Here
Focus Services On Neurology In Thailand:
Alzheimer's disease
Aphasia/communication disorders
Balance disorders such as vertigo
Brain tumors
Carotid endarterectomy
Carpal tunnel syndrome
Cerebrovascular disease
Cervical and lumbar spine injuries and disorders
Child (pediatric) neurosurgery
Degenerative Brain Disorders
Dementia
Encephalitis
Epilepsy seizures
Fainting
Headaches and migraines
Head Injury-acute and chronic
Hydrocephalus
Intracranial aneurysm and vascular diseases
Meningitis
Multiple Sclerosis
Neurofibromatosis
Neuromuscular diseases
Polyneuropathy
Parkinson's disease
Radiosurgery-Stereotactic
Sleep disorders
Spinal cord injury
Stroke rehabilitation
Tremors and Other Movement Disorders
Mechanical Thrombectomy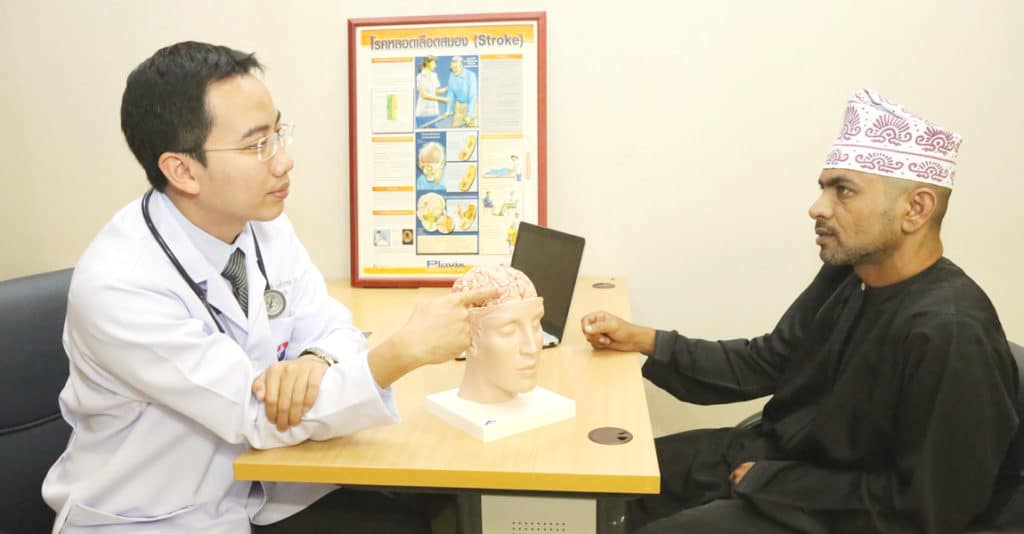 Facilities In The Neuroscience Center In Thailand :
Neurological disorders appear in different forms and manifestations. The best and accurate diagnosis requires not only trained staff but also sophisticated equipment too. Our neuron diagnostics services are performed with advanced technology to obtain a correct result which brings the center at the top neurological treatment in Thailand.
Computerized Tomography (CT)
Magnetic Resonance Imaging (MRI, MRA, MRV)
Cerebral Angiogram
Neurosonology Carotid Ultrasound and Transcranials Doppler
Electroencephalography (EEG)
Electromyography (EMG)
Nerve Conduction Study (NCV)
Price List For Neurology Center In Thailand
Special pricing for specific treatment
MRI Brain + MRA – 25,000 Baht
Carotid Duplex Ultrasound – xxxxx Baht