Eye Treatment in Thailand
The Eye Center with the best eye doctors in Thailand provides the best eye treatment in Thailand with modern technology and value effective top quality eye care which includes a work force of extremely trained technicians, sub-specialists and ophthalmologists. In addition with the talented and caring nurses, the result's that we have the best eye treatment in Thailand.
The team of eye doctors provides medical investigation to find your eye problems like myopia, conjunctivitis, glaucoma, retinal disorders and cataract, together with treatment of all eye problems:
>> Treatment of diabetic retinopathy and Age-related Macular degeneration by an eye doctor experienced in this condition.
Medical Therapy
Photodynamic Therapy
>> Glaucoma treatment (medical and/or surgical)
Our eye doctors have the foremost up-to-date medical technology and instruments like the Fundus Camera, OCT scan and latest LASIK technology.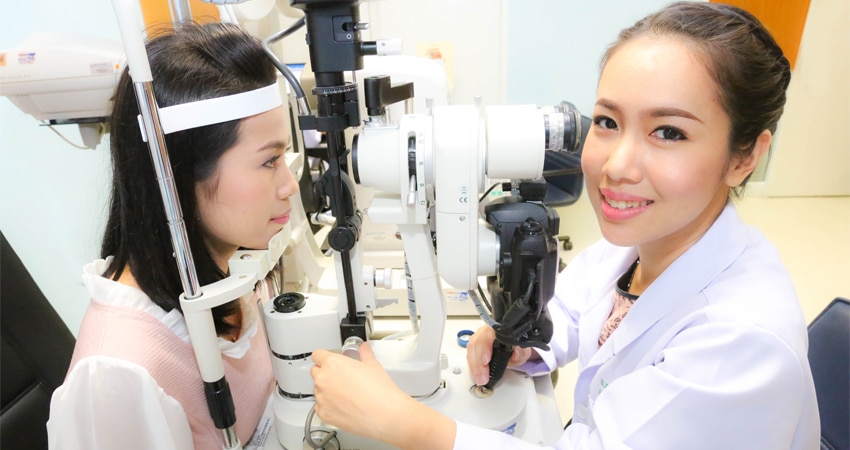 Pricing List of Treatments
Special pricing for specific treatment
Glaucoma Screening Package – 5000 Baht
Cataract Screening Package – 2000 Baht
Cataract Surgery with Shockwave – 60,000 Baht
Lasik Program for Shortsighted, Farsighted and Astigmatism with FEMTO Lasik Package – 90,000 Baht
Services
Comprehensive eye examination
Diagnosis and treatment.
Visual acuity testing (to verify if you need corrective lenses)
Test for measuring your eye pressure
Microscopic examination (of the front of the eyes)
Retinal examination (to view the rear of your eyes)
Refractive error (near and far sight and astigmatism)
Cataract surgery, glaucoma, dry or watery eyes
Drooping (inward or outward), turning eyelids
Itchy, pink eyes or conjunctivitis
Foreign bodies on the cornea, trauma to the eyes
Lumps or cysts on the eyelids