TOTAL CURED
2987
TOTAL DEAD
58 (+0)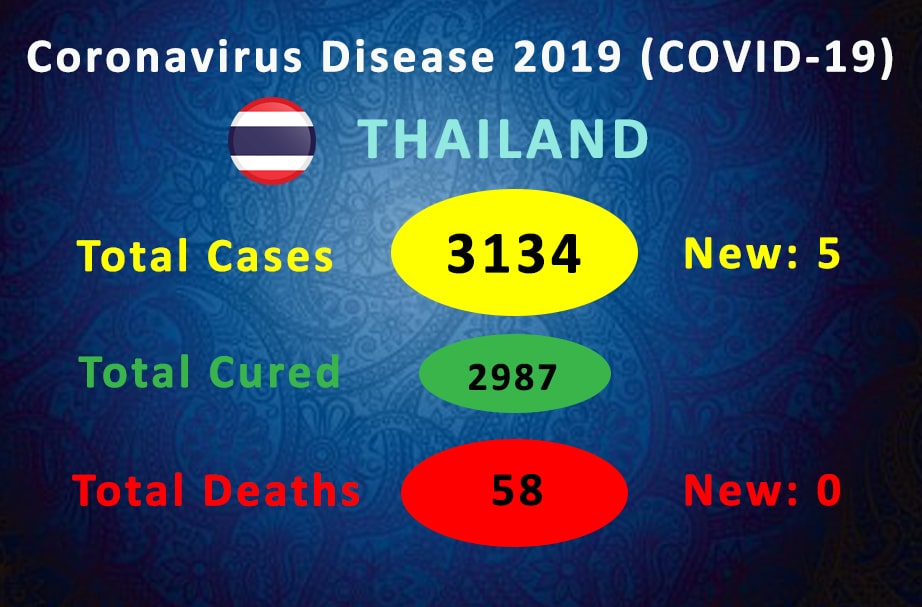 Public Announcement Thailand
Extension of temporary ban on all international flights to Thailand until 30 June, 2020
According to the latest notification of the Civil Aviation Authority of Thailand hereby issues the following fresh orders:

1. The ban on international commercial flights to Thailand will be extended from 1 June, 2020 to 30 June, 2020.

2. All flights permits granted for such period will be canceled.

3. Ban does not apply to state or military aircrafts, emergency landing, technical landing without disembarkation, humanitarian aid, medical and relief flights, repatriation flights and cargo flights.

Curfew In Thailand
Latest announcement on curfew is from 23:00 to 04:00

The Thai Prime Minister Prayuth Chan-O-Cha announced nationwide curfew from 22:00 to 04:00 and continues until further notice. If anyone without a reason going out then a fine of up to 40,000 That Baht and/or up to two years in prison as punishment. To fight the spread of coronavirus in Thailand and force people to maintain social distancing the government took this decision.
State of Emergency In Thailand
Tourism Authority of Thailand as announced the news about Thailand invokes Emergency Decree from 26 March to 30 April, 2020 to combat coronavirus in Thailand. Thai Prime Minister, General Prayut Chan-o-cha announced that earlier. No foreigners will be allowed to enter Thailand except diplomats and expats with work permit only. All national parks and forest parks in Thailand are closed to visitors from 25 March, 2020 until further notice. To combat the spreading of coronavirus in Thailand, this temporary closer has come to effect. There are sharp rise in daily infected patients.
Source: Click here
Water Festival Songkran Postponed
Venues with large crowds temporarily closed
Lates Update from Tourism Authority of Thailand ( 17 March, 2020)
To limit movement and travel of people Royal Thai Government has announced several measures to limit the spread of COVID-19
The Songkran festival – Thai New Years holidays and celebrations (13-15 April) has been postponed until further notice.
Entertainment venues Muay Thai Stadium, Sports stadium, horse race tracks, cinemas, pubs/bars in Bangkok and the vicinity until the situation improves.
Activities which attract large crowds; such as, concerts, exhibitions and trade fairs, and religious, cultural and sport events, will be up to the discretion of each provincial governor and the local communicable disease control office.
14-day closure of universities, international schools and tutorial schools, from 18 to 31 March, 2020
Source: Click here
Coronavirus In Thailand
If you want to have Heart Checkup while traveling Thailand Click Here for the best heart treatment in Thailand
What is Coronavirus?
The 2019 Novel Coronavirus mostly known as "Coronavirus" was first identified in Wuhan, a city of 11 Million people in the central Chinese province of Hubei. It is new respiratory disease that has not been identified previously. Scientists are suspecting this virus probably came from animal sources. Most patients with complaints of phenomena came from Wuhan seafood market before the outbreak.
Symptoms:
Common signs of this coronavirus infection is fever, cough, respiratory symptoms, breathing difficulties, shortness of breathe. Coronavirus can be transmitted through human and animals. This new strain can be transmitted worldwide from human to human.
Coronavirus In Thailand
Thailand has found first coronavirus patient from human to human contact inside the country on Friday 31 January, 2020. The Thai person does not have any previous record of traveling China. Bangkok Post reported earlier about this.

First patient was detected in Thailand on 22 January. They came from China for travel.

Current number of confirmed infected people are 37 in Thailand.

Thailand is holding the 6th spot of the countries best prepared to deal with global pandemic. According to Global Health Security Index Thailand scored 73.2 by level of preparation to respond to a global epidemic. United States is holding the first spot scoring 83.5. Thailand is the top country among Asian nations.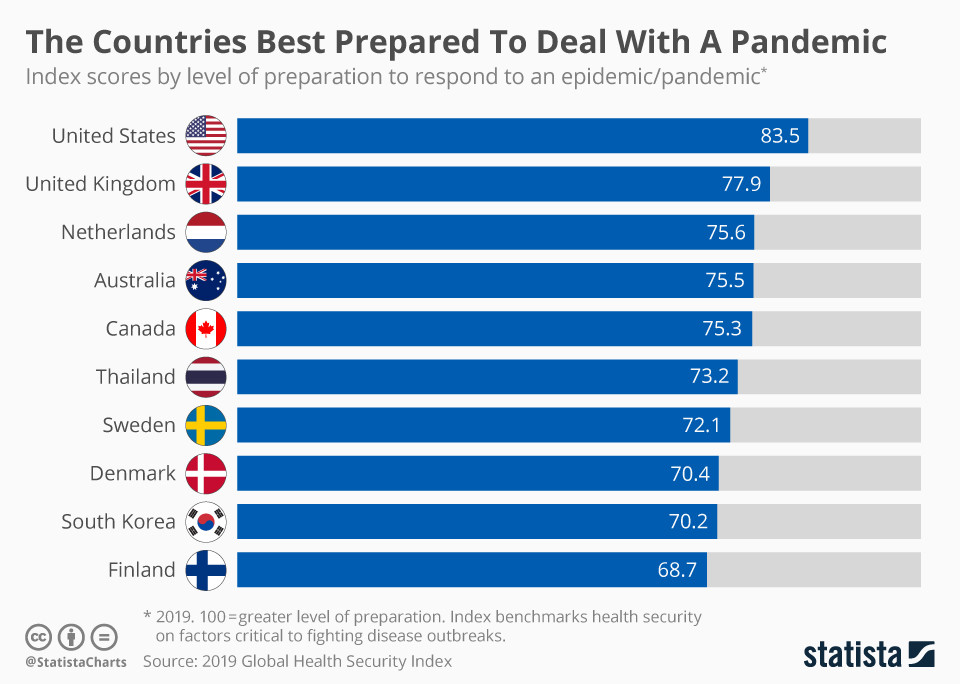 Tourism In Thailand
On Thursday January 30 the World Health Organisation (WHO) declared outbreak of the coronavirus in China. Thailand has large number of Chinese tourists so preventive measures are taken already according to Tourism Authority of Thailand (TAT). TAT released an official statement regarding their measures to continue tourists flow in Thailand. They said among the 19 confirmed patients, 7 people have already returned their home. So this reflects that Thailand already took an effective implementation on disease surveillance.

TAT expressed they took strict preventive measures and highly active surveillance for all tourists in Thailand to protect them exposed to the virus. Thailand's events and festivals will take place as scheduled and tourist establishments, attractions, shopping malls, public transports are open as usual. Coronavirus in Thailand is not in red alert now.


TAT on 1 February, 2020 announced in a statement that hundreds of thousands of tourists have booked travel to Thailand over the next few months and they thanked all the tourists to their continued support and reassured them that they took safely and security measures for them.


Coronavirus Prevention:
There is no vaccine to prevent coronavirus. While traveling Thailand prevention is all you need to do to stay away from this virus. Everyday prevention from germs and infections are sufficient to prevent this virus.
Wash hands often with soaps or saline water for at least 20 Seconds. Use alcohol based sanitiser or keep anti-bacterial wet tissue always with you.
Do not touch eyes, nose or mouth while traveling tourist places.
Wear N95 or any mask while traveling outside your room.
If feel sick stay at room and contact someone to take you to the hospital for checkup.
Cover your mouth while sneezing. Use tissue to cover cough and throw it to the bin.